NCEPU Organized Social Practice for International Students in Summer Vacation
During the summer vacation, NCEPU organized international students to visit National Speed Skating Oval and Central Gifts and Artifacts Center for social practice to enrich international students' holiday life, from July 19th to 20th. The summer social practice belongs to a series of activities entitled " Experience China: A journey of Carbon Peaking & Neutrality, Future, Intelligence and Revitalization" in 2022.
National Speed Skating Oval is the only brand-new ice competition venue for Beijing 2022 Winter Olympics, whose architectural highlights are low carbon and smart. To further implement the spirit of General Secretary Xi Jinping's speech at Beijing 2022 Winter Olympics and Paralympics review and awards ceremony, NCEPU organized dozens of international students to go to National Speed Skating Oval, also known as "Ice Ribbon", to visit Olympic Badge Culture Exhibition to learn about the history and culture of the previous summer and winter Olympic Games, and experience "the fastest ice" on the afternoon of July 19th.
The Gift of Friendship from Past Ties to a Shared Future—Exhibition of Diplomatic Gifts Received by China's Leaders is held by Central Gifts and Artifacts Center. The exhibition displays the representative pieces and sets of gifts received and presented by Party and state leaders on diplomatic occasions since the founding of the People's Republic of China (PRC) in 1949. It showcases the great journey taken by Chinese Communists and the splendid achievements they have made in launching and developing the diplomatic cause of the PRC. On the afternoon of July 20th, more than 40 international students visited the exhibition, inspired by the great endeavours and historic achievements of the CPC Central Committee with President Xi Jinping at the core since the 18th CPC National Congress in comprehensively promoting Major Country Diplomacy with Chinese characteristics, advancing the building of a community with a shared future for mankind.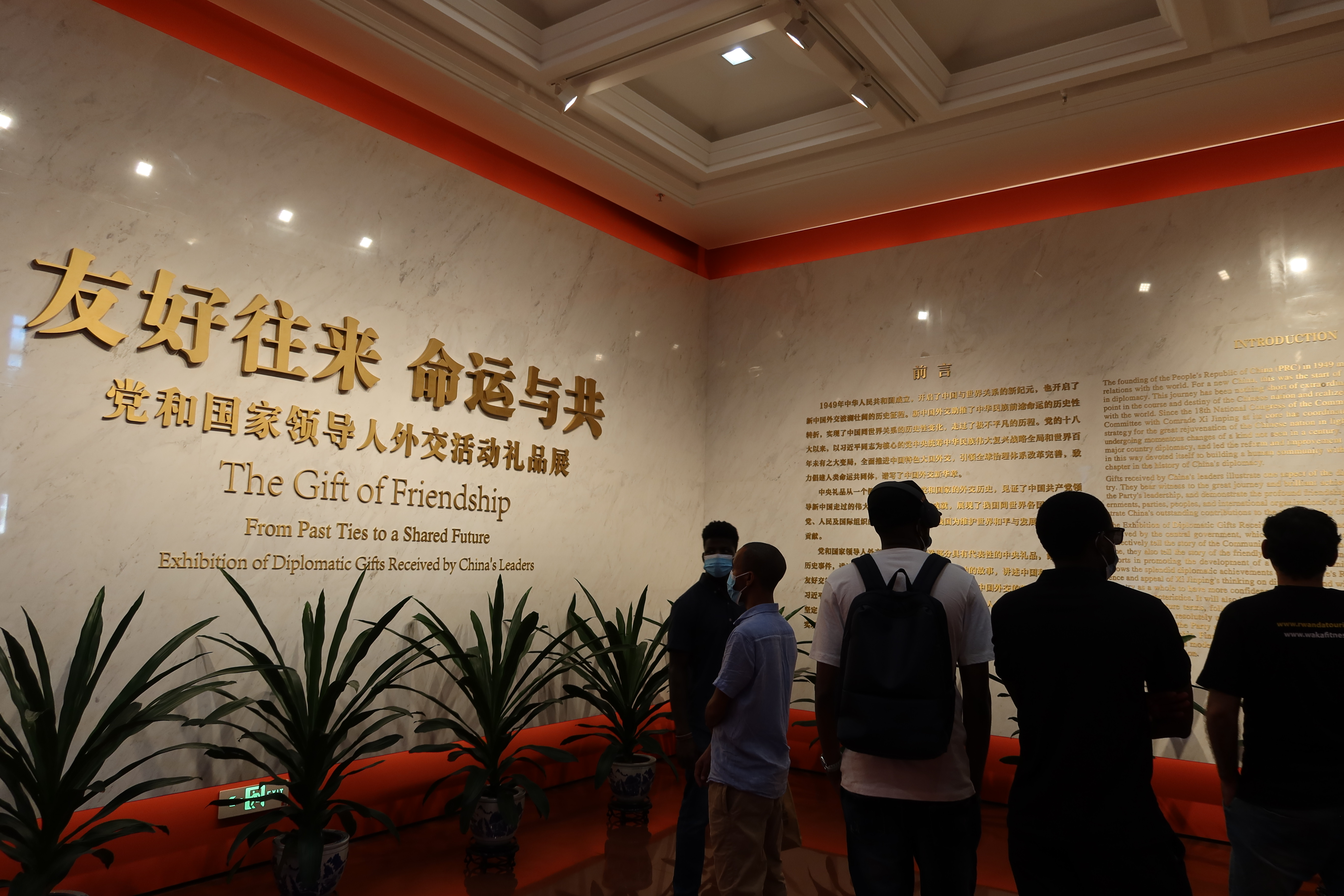 Chisha Ignatius Mwila, a master from Zambia, said: "I am really happy to come to the National Speed Skating Oval to study and experience. It is a very good experience, which makes me feel the Beijing Winter Olympics closely. "Ice Ribbon" shocks me both in terms of its architectural features and concept." "I am very happy to be here at the Central Cultural Relics Administration Center," said Asgedom Abreha Teklu, a PhD from Ethiopia. "This exhibition contains a long history of Chinese diplomacy. Here I see different gifts from my country to China. May the friendship between our country and China last forever!"
Other international students who participated in the social practice stated that through this activity, they experienced the smart and low-carbon Beijing Winter Olympics venue and learnt about the historic value and cultural significance of Major Country Diplomacy with Chinese characteristics. They would like to describe their family and friends with a more real, vivid and comprehensive story of China and play a positive role in promoting people-to-people exchanges between Chinese and foreign people and advancing the building of a community with a shared future for mankind.
worked by Li Shuang

revised by Xulingling, Qi Zheng, Zheng Le
edited by Li Shuang